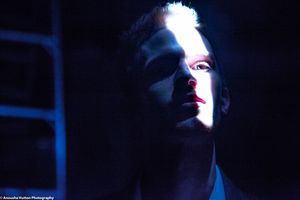 About
Born and bred in Los Angeles, Gabe Saltman is an eclectic multimedia artist, composer, producer and performer.    
As a solo artist, Gabe combines intricate classical orchestration and experimental electronics with soulful songwriting. The music is a dreamy post-genre landscape meant to invoke deep explorations of emotional beauty in the modern world. In addition to his solo work, Gabe performs ambient sound baths, multi-media installations and work for choreography.
Concurrently with his endeavors as a solo artist, Gabe is the sole producer, and visionary of his very own concert series, Twilight Passage. Celebrating the transformation of nature using projection technology and musical performance, this exclusive event has become a sensational avenue for connecting local artists with nature and community.   
Since graduating from the University of Michigan in Jazz Saxophone, Gabe has been performed and worked alongside  NBC's Hollywood Game Night, Remote Control Productions (Hanz Zimmer), Ramin Djawadi (Game of Thrones), The Vitamin String Quartet, Brandon Coleman (Brainfeeder), Jammcard, Scot Nery's Boobietrap, Rafelson Media, PBDY (Brainfeeder), and Alex Wiley.
In addition to his veritable abilities as a performing musician, Gabe is also an accomplished studio and front of house engineer. Engineering for clients such as HBO, Funny or Die, UCLA's Hammer Museum, The Chromatics, NBC, Clifton's Republic, Clarence E. Mcclendon Ministries, and Matter Music, Gabe expresses the unique ability to lay it down on the mic and tech some of the best in the business.